Jadunath Sarkar
Sir Jadunath Sarkar was born on December 10, 1870 to a Vaishnava Varendra-Kayastha family of Karachmaria, Rajshahi district, Bengal. His father Rajkumar (1839-1914) was a landlord who also worked as the estate manager of the Dighapatia zamindari. Jadunath Sarkar's early education was in Karachmaria, Rajshahi town, and Calcutta.  In 1887, he passed the matriculate Entrance Examination from Rajshahi Collegiate School and was ranked sixth in the University of Calcutta. He then joined Rajshahi College and passed the intermediate First Arts examination in 1889. Subsequently, he joined Presidency College, Calcutta and passed his B.A. examinations in February 1891 with honours in History and English, and was ranked second in the University. In November 1892, he passed his M.A. examinations in English, topped his class, and was awarded the gold medal. During this period, he lived for awhile at the Eden Hindu Hostel and was the secretary of its football club. The Suhrid, a magazine of the Suhrid Samiti of the hostel, carried Jadunath's first history article "Fall of Tipu Sultan" and his first essay on Rabindranath Tagore's literary works.
Career and Publications:
In March 1893, Jadunath Sarkar joined Ripon College, Calcutta, as a member of the faculty of English, and then took up a position at the Metropolitan College, Calcutta, in 1896. In 1898, he joined the Bengal Provincial Educational Service and briefly taught English and History at Presidency College, Calcutta. The longer part of his career, between 1898 and 1917, was spent at Patna College except for a brief stint at Presidency College in 1901. At Patna College, he first taught both English and History, but from 1908 onwards his appointment was exclusively in the History Department. In 1917, Jadunath joined the History Department of Benaras Hindu University as its first Head. Next year, he was promoted to the Indian Educational Service. In July 1919, he joined Ravenshaw College, Cuttack, as professor of English and History. He also volunteered to teach Bangla there. In 1923, Jadunath was transferred back to Patna College and retired from service in 1926. From 1926 to 1928, he served as Vice-Chancellor of the University of Calcutta. His tenure was marked by several controversies including the public uproar over the University's handling of student protests in the wake of the Simon Commission.
In 1897, Sarkar had been awarded the prestigious Premchand Roychand studentships by the University of Calcutta and in 1901 his P.R.S thesis was published as India of Aurangzib (Topography, Statistics and Roads) from Calcutta. It marked the beginning of his life-long study of the history of Mughal India.  Over the next five decades, Jadunath Sarkar established himself as a pre-eminent authority on the history of 17th and 18th century India, and of medieval Bengal. His publications included Economics of British India (1909), History of Aurangzib volumes 1-5 (1912-24), Anecdotes of Aurangzib and Historical Essays (1912), Chaitanya: His Pilgrimages and Teachings (1913), Shivaji and His Times (1919), Fall of the Mughal Empire volumes 1-4 (1932-50), Bengal Nawabs (1952), Military History of India (1960), A History of Dasnami Naga Sanyasis (n.d.) with Nirod Bhusan Roy, and A History of Jaipur (1984) edited by Raghubir Sinh. He also edited Colonel Jarett's translation of the Ain-i Akbari of Abul Fazl-I Allami volumes 2-3 (1948-1949), History of Bengal Muslim Period 1299-1757 (1948), and Persian Records of Maratha History volumes 1-2 (1953-54). His Readership Lectures at Patna University were later published as Mughal Administration (1920, second edition 1924) and his William Mayer Lectures at the University of Madras were published as India through the Ages (1928). His books in Bangla include Patnar Katha (1916-17), Maratha Jatiyabikash (1936), and Shibaji (1929).
In terms of his methodology, Sarkar was deeply influenced by the tradition of critical historiography as practised by European historians like Ranke, Niebuhr, and Mommsen, but also considered history-writing to be essentially a literary pursuit.  Without fail, he referred to his own historical research as his "literary work". Jadunath Sarkar nurtured a life-long passion for Sanskrit and English literature and remained active for most of his life in the Bangla literary sphere. He was a regular contributor to Bangla periodicals and journals such as Prabasi, Bharatbarsha, Prabhati, and Sahitya-Parishat-Patrika. Among other things, his presidential address to the North Bengal Literary Conference in 1911 called out to Bengali Muslims to devote their energies to the cultivation of their "natural language" which was Bangla and abandon their literary pursuit of Urdu.
Formation of a professional circle of historians and a forum for historical research
In his early career as a historian, Jadunath looked up to William Irvine (1840-1911) as his mentor, routinely corresponded with him, and collaborated with him in his search for historical sources. Born in Aberdeen, his historical writings include A History of the Bangash Nawabs of Farrukhabad, from 1713 to 1771 A.D (1879), and The Army of the Indian Moghuls: Its Organization and Administration (1903). After Irvine's death, Sarkar completed, edited, and published his magnum opus, the Later Mughals (1707-1739) volumes 1-2 (1922). In 1904, Sarkar initiated correspondence with a Maharashtrian historian then living in Baroda, Govind Sakharam Sardesai (1865-1959). Sardesai had just published the first volume of his Maratha Riyasat (1902) and Jadunath sought his help in locating Marathi sources on Aurangzeb's reign. Sardesai considered the letter to be serendipitous as he had himself just realized the importance of Farsi sources in the reconstruction of the Maratha past. They first met in Baroda in 1909, became close friends, travelled extensively in northern and western India, and collaborated and corresponded throughout their lives. Together, they served as General Editors of the English Records of Maratha History, Poona Residency Correspondence Series volumes 1-14 (1936-58). When Sardesai retired to Kamshet near Pune, his new home became the venue of the "Kamshet Historical Week" of 1939 where Sarkar and Sardesai held intense academic sessions with fellow historians.
Honours
Jadunath Sarkar was awarded the Griffith Prize by the University of Calcutta in 1904 and was elected member of the Indian Historical Records Commission in 1919. In 1923, he was made Honorary Member, Royal Asiatic Society of Great Britain and Ireland and was also Honorary Fellow, Royal Asiatic Society of Bengal. In 1926, he was appointed Companion of the Order of the Indian Empire, and was knighted in 1929. He was accorded corresponding membership of the Royal Historical Society of England in 1935 and honorary life membership of the American Historical Association of Washington. In 1936, he was awarded a D.Litt. (Honoris Causa) by the University of Dhaka, and Patna University followed suit in 1944. As he turned eighty, the Bangiya Sahitya Parishat and the Bangiya Itihas Parishad felicitated him in 1949 and 1950 respectively. In 1957, a commemoration volume titled Life and Letters of Sir Jadunath Sarkar was published under the editorship of Hariram Gupta from Panjab University, Hoshiarpur.
At the house at 10 Lake Terrace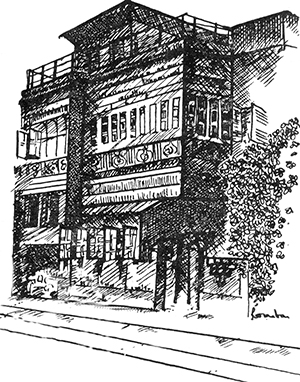 From 1938, this house that he built at 10 Lake Terrace became his residence and the venue for all his academic research and writing. His study was the first room on entering the ground floor, where the Jadunath Sarkar Gallery has been set up, his library was also on the same floor in a room on the right, and the area between his study and library served as the place where he would have his meals, meet visitors and scholars. He spent his entire working day in his study and library and retired to his bedroom on the first floor only late in the evening, often resting for a while in the open verandah in front of the family bedrooms. It was in his study on the ground floor that he passed away peacefully at night, after a day of work on 19th May, 1958.