Buddhadeva Bose Gallery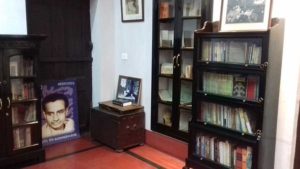 Buddhadeva Bose (1908–1974) is known to Bengalis as the most wide-ranging modernist in the literary sphere succeeding Rabindranath Tagore. Poet, playwright, novelist, short-story writer, literary critic and essayist of great distinction, he left behind a body of creative and critical work of immense acuity and intelligence.
Born in Kumilla in 1908, Buddhadeva Bose lived the early part of his life in East Bengal, moving to Calcutta in 1931. Here he published poetry, criticism, novels and plays, and some of the most seminal literary journals of the time. After Pragati, which was published from Dhaka, he then edited and published Kavita from his residence at 202 Rashbehari Avenue, Calcutta, overseeing a literary magazine and movement whose contributions to Bengali modernity cannot be overestimated. His career in teaching, which began at the English department of Ripon College, culminated in the founding of the first Comparative Literature Department in India at Jadavpur University in 1956.
This display, comprising his book collection, book cases, his study table and chair, armchair and standing lamp, as well as numerous photographs of every stage of his life, attempts to document the life of a writer of inestimable value to Indian literary culture.