Archives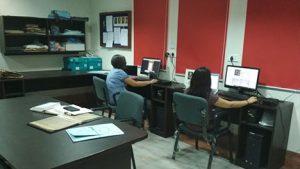 Named the Hiteshranjan Sanyal Memorial Collection after the social and cultural historian who was a member of the CSSSC faculty from 1973 till his untimely death in 1988, the institution's archive began in 1993 with the project of microfilming collections of 19th and early 20th century Bengali periodicals which were languishing in different library holdings. The principal microfilm collection of periodicals in the archive comes from the Bangiya Sahitya Parishat Library in Kolkata which is the largest repository of 19th century Bangla periodical in the world. The visual archive was launched in 1996, with the intention of documenting, cataloguing and collating the pictorial, print and photographic imagery of the late 19th and 20th centuries that lay with individual collectors, with the families of artists and photographers, with printing firms, or within small institutions and private trusts. Since its formation, the scope of this visual archive has extended over the different fields of popular paintings and prints; modern art; studio, family, salon, commercial and institutional photography; advertisements, commercial art, book covers, illustrations, posters and hoardings. At present the archive has a collection of around 30,000 visual images which have been digitized and a database of this material is on the verge of completion so that researchers and scholars can access them easily.
The process of digitization both of microfilms and images began in 2003. The entire collection of microfilm rolls of Assamese, Bengali and English language periodicals and books have been transferred to electronic format. During the beginning of 2008, the archive received grants from the Endangered Archive Programme (EAP) of the British Library and the Ford Foundation to digitize the entire collection of two rare and invaluable newspapers The Amrita Bazar Patrika (1870-1949) and the Jugantar (1937-1980). The scanned version of the Amrita Bazar Patrika has been completed successfully and has already been uploaded to the CSSSC and the British Library servers for free access to researchers and scholars all over the world. The digital version of the Jugantar has also been completed and it is in the process of being uploaded to the institution's server soon.  Digitization of rare books from remote area libraries under the EAP has also been completed and about 3200 books and periodical titles have been completed successfully. The archive over the years has received generous grants and support from various funding bodies like the Japan Foundation, ENRECA of DANIDA, SEPHIS and the Ford Foundation for documentation, dissemination and digitization of the existing collections.
While all original material donated to the archives – such as the photographic albums and papers of Sevati Mitra and Barun De or the temple photographs of Hitesranjan Sanyal – are housed in the strong-rooms at JBMRC, the digital collection is located in both the archives room in the main campus at Patuli and on the top floor of the JBMRC. All public use of the archives is at Jadunath Bhavan.
Introducing a selection of collections from the visual archives: